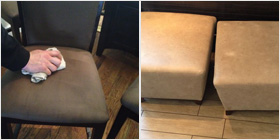 Furniture Cleaning Orange County
At some point in time if you live in orange county, you will need Furniture Cleaning Orange county to clean your furniture. It is a good idea to have your furniture cleaned often. There are some things you can do yourself in order to prolong your furniture's life, including vacuuming or lightly brushing your sofa, love seat, and chairs weekly. Vacuuming helps to get rid of soil. Though you may be able to clean your furniture, you have to be careful. For certain furniture, if you use water-based or detergent-based cleaners, they can cause your fabric to shrink. Water stains can become permanent in your fabric as well. You won't be able to get rid of them with cleaning solutions.
That is why you will need the service of furniture cleaning. The professional furniture cleaning in Orange County are trained to know what types of fabric will work with certain cleaning solutions. We check the cleaning code so we will know how to clean the furniture. We at Furniture Cleaning Orange County also have special attachments that are useful for detailed cleaning.
Home Carpet Cleaning
You want to hire carpet cleaning who are reliable and do quality work? Call UCM Services Orange County line at 949-385-3969. We put our emphasis on quality cleaning. Ask your neighbors, friends, or colleagues for recommendations. Furniture Cleaning Orange County should be versatile in knowing what cleaning solutions will work on cleaning wood furniture and cleaning leather furniture.
Steam Cleaning for Carpet and Furniture Steam cleaning is very effective and the easiest way to clean your furniture. The vacuum sucks up the excess water; thereby, cutting down the drying time. UCM Services Orange County use steam cleaning to kill mites and other allergens that your fabric traps. Steam cleaning is also great at getting odors out of your furniture. If there are stains in your fabric, the furniture cleaners will likely pre-treat those areas with a cleaning solution that will not damage your fabric. If you have pets, for example, ask the our carpet and upholstery cleaning team on what pet solutions to use. We will recommend one for odors and another for getting up fecal or vomit materials. We will give you tips on making homemade solutions for cleaning your upholstery.
You will be more than satisfied after you have had the UCM Services Orange County come in and do a professional cleaning job.